TUNA MASTER OF THE YEAR 2023
GUSTO MARE
TUNA MASTER OF THE YEAR 2023 SCOREBOARD
| | | | |
| --- | --- | --- | --- |
| | TM TEOS | TM ALAÇATI | TOPLAM PUAN |
| TAKIM/TEAM | Puan / Pts | Puan / Pts | TOTAL POINTS |
| GUSTO MARE | 616,5 | 2658,2 | 3275 |
| STRIKE | 639 | 1342,2 | 1981 |
| STAFU | 0 | 1791,5 | 1792 |
| YALI 35 | 402 | 711 | 1113 |
| KOZLU | 1037,1 | 0 | 1037 |
| SNAPPER | 900 | 0 | 900 |
| TUNA TANGO | 807 | 0 | 807 |
| FIUME | 321 | 430,65 | 752 |
| MGS | 673,8 | 0 | 674 |
| TORNADO | 0 | 616,2 | 616 |
| SALT LIFE | 604,5 | 0 | 605 |
| ORKI TEAM JR | 0 | 514,35 | 514 |
| TUNA VORTEX | 490,5 | 0 | 491 |
| AZUR | 0 | 408,9 | 409 |
| ESPADON (FURY) | 392,1 | 0 | 392 |
| SHAMU | 0 | 369 | 369 |
| THREE LIONS | 361,8 | 0 | 362 |
| FISHERMEN | 340 | 0 | 340 |
| BLUE LEON | 0 | 304,1 | 304 |
| BARACUDA | 0 | 280,8 | 281 |
| KALAIS | 0 | 270 | 270 |
| BLUEFIN | 0 | 84 | 84 |
TUNA MASTER OF THE YEAR 2022
SİS 35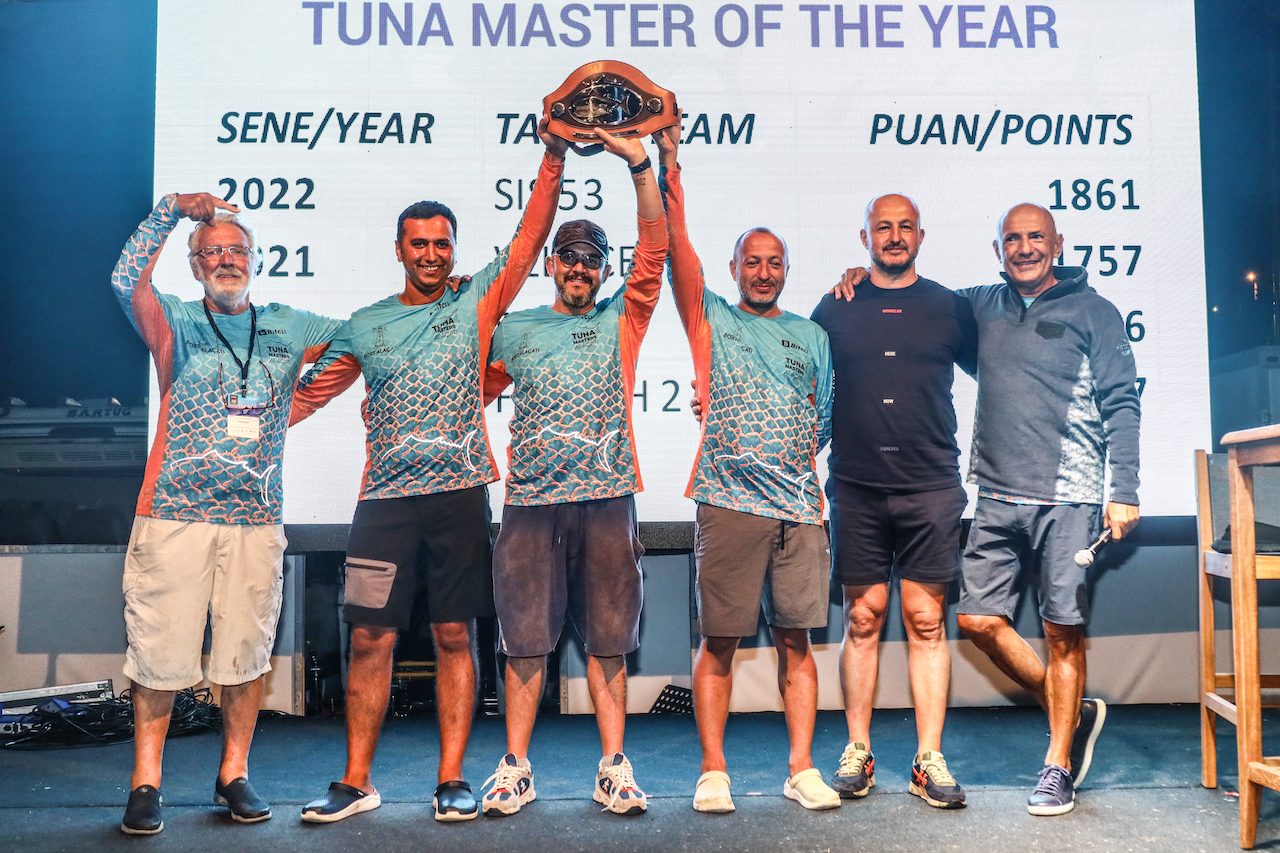 TUNA MASTER OF THE YEAR 2022 SCOREBOARD
| | | | |
| --- | --- | --- | --- |
| | TM TEOS | TM ALAÇATI | TOPLAM PUAN |
| TAKIM/TEAM | Puan / Pts | Puan / Pts | TOTAL POINTS |
| Sis 35 | 934,8 | 926,4 | 1861 |
| Veloce | 725,7 | 936 | 1662 |
| Tornado | 1029,3 | 468 | 1497 |
| Toro | 294 | 790,2 | 1084 |
| Orki Team | 480 | 478,8 | 959 |
| Stafu | 958,8 | | 959 |
| Rose 2 | | 911,4 | 911 |
| Shamu | 820,56 | | 821 |
| Odin | 734,1 | | 734 |
| Totem | 185,4 | 506,4 | 692 |
| 3 Lions | 588,9 | | 589 |
| Fiume | 538,8 | | 539 |
| Fury | 522,6 | | 523 |
| Obelix | 481,2 | | 481 |
| Tuna Fish | 411,48 | | 411 |
| Blue Fin Teos | 378,6 | | 379 |
| Tuna Monster | 352,2 | | 352 |
| Mesica Boat | 309,9 | | 310 |
| Tuna Vortex | 302,4 | | 302 |
TUNA MASTER OF THE YEAR 2021
VELOCE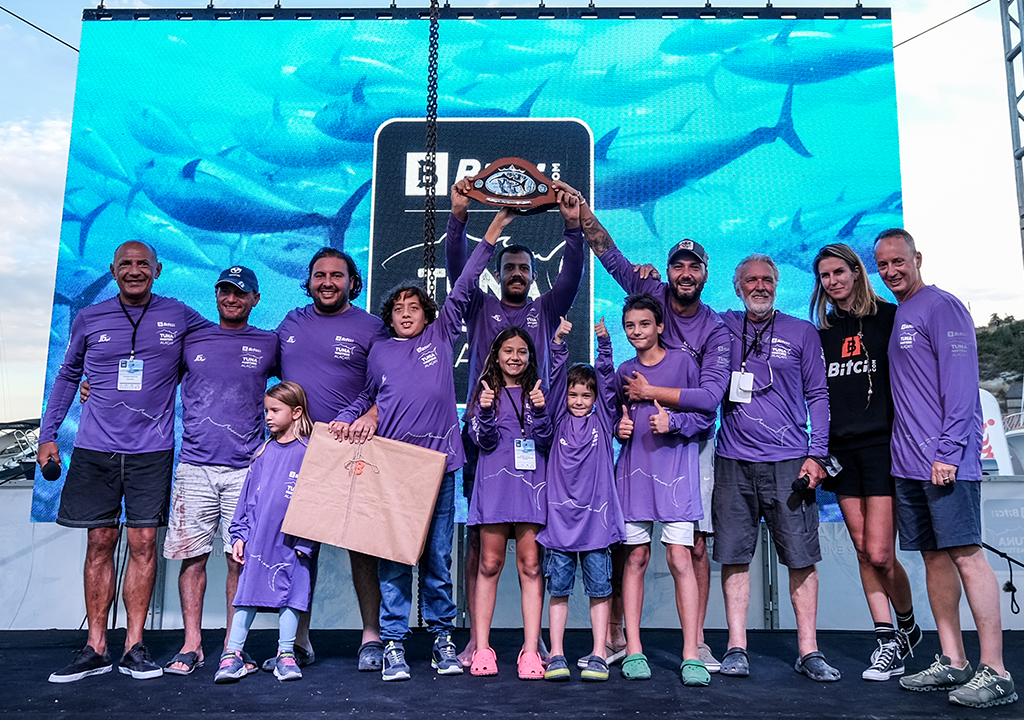 TUNA MASTER OF THE YEAR 2021 SCOREBOARD
| | | | |
| --- | --- | --- | --- |
| | TM TEOS | TM ALAÇATI | TOPLAM PUAN |
| TAKIM/TEAM | Puan / Pts | Puan / Pts | TOTAL POINTS |
| VELOCE | 1238,4 | 519 | 1757 |
| STAFU | 412,2 | 387 | 799 |
| SHAMU MGS | 417 | 345 | 762 |
| ORKI TEAM | 745 | | 745 |
| FRIEND SHIP | | 634 | 634 |
| BARACUDA | 239,4 | 373,8 | 613 |
| FES FISH | | 576,9 | 577 |
| MIA MINI | 573,9 | | 574 |
| TORNADO | 503 | | 503 |
| HELEN | 416,4 | | 416 |
| TUNA VORTEX | 325,2 | | 325 |
| TRIDENT AVA | 285 | | 285 |
| MGS | 259,2 | | 259 |
| AZURE | 255,6 | | 256 |
| ALBATROS | 252 | | 252 |
| BARBAROSSA | 252 | | 252 |
| VENOM | 240 | | 240 |
| X-SHARK | | 240 | 240 |
TUNA MASTER OF THE YEAR 2020
SHAMU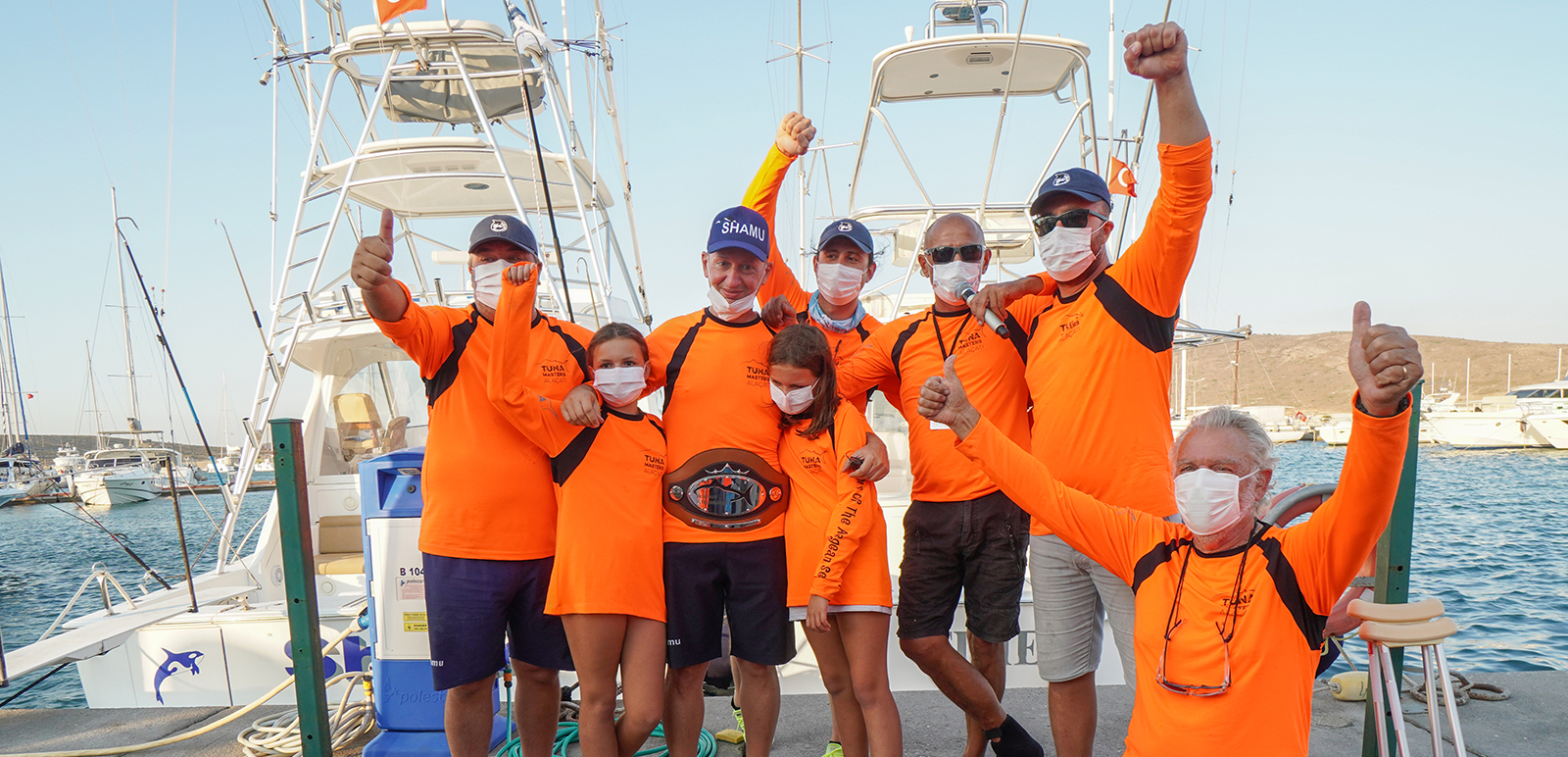 TUNA MASTER OF THE YEAR 2020 SCOREBOARD
| | | | |
| --- | --- | --- | --- |
| | TM TEOS | TM ALACATI | TOPLAM PUAN |
| TAKIM / TEAM | PUAN / POINTS | PUAN / POINTS | TOTAL POINTS  |
| SHAMU | 683 | 413 | 1096 |
| STRIKE | 373 | 639 | 1012 |
| HUNTER 38 | 0 | 951 | 951 |
| ATA AKINCI | 0 | 931 | 931 |
| DORADO | 409 | 445 | 854 |
| BARACUDA | 766 | 0 | 766 |
| SEXY FISH (MC) | 0 | 721 | 721 |
| FILIKA | 689 | 0 | 689 |
| HADIA | 0 | 655 | 655 |
| TORO | 625 | 0 | 625 |
| TORNADO | 489 | 0 | 489 |
| NEVRA | 0 | 363 | 363 |
| ORKI TEAM | 331 | 0 | 331 |
| CANO 1 | 308 | 0 | 308 |
| BIG BLUE | 266 | 0 | 266 |
TUNA MASTER OF THE YEAR 2019
FES FISH 2
TUNA MASTER OF THE YEAR 2019 SCOREBOARD
| | | | |
| --- | --- | --- | --- |
| | TM TEOS | TM ALAÇATI | TOPLAM PUAN |
| TAKIM / TEAM | PUAN / POINTS | PUAN / POINTS | TOTAL POINTS |
| FES FISH 2 | 944 | 333 | 1277 |
| SHAMU | 524 | 747 | 1271 |
| STRIKE | 1258 | 0 | 1258 |
| WHALE RIDER | 981 | 0 | 981 |
| DRAKEN | 926 | 0 | 926 |
| FIDATO | 425 | 445 | 870 |
| TORO | 851 | 0 | 851 |
| THREE OF A KIND | 355 | 389 | 744 |
| BENCHMARK | 700 | 0 | 700 |
| BLUEFIN | 294 | 338 | 632 |
| MIA | 584 | 0 | 584 |
| CANO 1 | 0 | 584 | 584 |
| TORNADO | 568 | 0 | 568 |
| AMAZE II | 534 | 0 | 534 |
| NEVRA | 491 | 0 | 491 |
| PESCATORE | 488 | 0 | 488 |
| BIG BLUE | 0 | 401 | 401 |
| TEOS-IV | 379 | 0 | 379 |
| TUNA VORTEX | 0 | 346 | 346 |
| SELMUSH | 0 | 346 | 346 |
| BARACUDA | 0 | 345 | 345 |
| MIA II | 329 | 0 | 329 |
| HUNTER 38 | 295 | 0 | 295 |
| BAD TRIP | 0 | 180 | 180 |
Dear Contestants,
As of the year 2019, we will be starting the " Tuna Masters of the Year" nomination for the Tuna Masters series of Tournaments.
The "Tuna Masters of the Year" boat/team will be determined based on the sum of the fish caught and the relative points accumulated during both Tournaments. The winning boat/team will be holding the Champion's Belt for one whole year at the end of which it will handle it to the new champion of that next year.
Differing from standard tournament procedure, fish awarded with the "Biggest Catch" category will also be taken into account when summing the total points.
The winning boat/team will thus be determined and acclaimed immediately following the Alaçatı Tournament, after all awarded points  are duly calculated.
MOST PARTICIPATING
In this 10th year of ours, we are very proud and happy. We are grateful to you all who have been with us all the time by marking their calendar days a year in anticipation. For ten years we hosted friends and we were joined every following year by diverse and colourful new characters. We wanted to honour those who didn't leave us alone by joining every single tournament in the past 10 years with a commemorative gold medal, and those who followed for 9 years with an equivalent silver medal.
According to the results we reached after our historical participation investigations, we hereunder publish the list of the medal winning participants. Selections have been inclusive of this year's registrations and pending confirmation and correction in case of default in 2016.
These lists were drafted with utmost care but can nevertheless bear omissions, and in case you do believe so, we beg you to inform us immediately, thus enabling us to proceed with the necessary corrections.
Gold Medal:
Berent Akdemir
Gökhan Çarmıklı
Burhan Çavuşoğlu
Osman Üçer
Suat Evren
Sayan Sokullu
Mark Benmayor
Silver Medal:
Can Kestelli
Tolga Aydınol
Enis Güngör
Turan Mutlu
Umut Kızıltan
Ömer H. Karaosman
Ege Kestelli
Erhan Yağımlı
Kağan Özbenli
Tournament Special Gold Medal:
WINNING BOATS & TEAMS
Even when roaming the rough waters of Alaçatı in quest of a good fish can be considered a success, some of the boats and their teams managed to crown their successes with medal rewards.
We developed a scheme for screening the most successful boats/teams and the leading boats did emerge from the such scoring. When effecting this scoring we also took into consideration of the changes of boats by their owners and their teams, considered their last boat but transferred their previously accumulated scores. When giving the scores, 3 points went to the Overall 1st, 2 points to the Overall 2nd, 1 point to the Overall 3rd, and 3 points to the Biggest Catches. As a result, the outcome for the boats entering this 10th year is as follows, and constitutes a serious competing situation amongst these 3 boats, for this year's winners. The final has consolidated after the conclusion of this 10th Tournament.
El Quizo (8 points)
Dorado (6 points)
Uhuru (6 points)
Espadon (5 points)
LOYAL SUPPORTERS
Since its birth until today, and with great efforts, we managed to raise this tournament to become the largest offshore one in Europe. We could not achieve this without the formidable support of our sponsors who stood by us since the very first day. From the bottom of our hearts, we thank every one of our sponsors for being with us.
Many of our sponsors were with us for many of the following years and experienced with us the very pleasure of this tournament. But amongst all of them there are a few who took a much higher standing in our lives by granting us their uninterrupted support. These hereunder named ones hold a special place for us and we wanted to honour them with the 10 th year medal.